May 10th 2008PamUncategorized
Today is the day. Vicki and I are heading up to Lang's horse and Pony farm for a mini Mom's retreat. Tomorrow the kids will join us and ride ponies. They are excited, I am excited. It should be lovely.
It is so odd to me. I never expected to ride more when I lived in the city then I did in the suburbs. I do though.
Maybe part of it is determination. I was determined not to let my dream of riding die just because we moved to the city. Part of it is the way this area is too. Horse farms can afford to survive around here, while in Maryland it was a lot more expensive and harder for them.
I won't say it's exactly convenient. Lang's is two hours from us. To me though the drive is worth every minute. The horses are wonderful and the farm is lovely and well kept.
So off we go for a mini moms retreat. We'll do the full three day two night deal in September. Rachel is planning to fly out and join us for it.
I wish everyone a happy Mothers day and I hope you all have as lovely a weekend as I plan to. Here are some pictures for you to enjoy.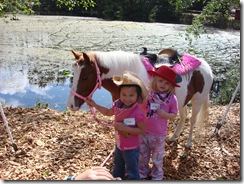 Willoweve and Fiona standing with pony Amy at Lang's
Vicki on Dave at Mom's camp
No Comments »
Leave a Reply