Feb 4th 2009PamGeneral & Xavier
In honor of his birthday here is my list of ten or so of Jason and I's favorite things about Xavier…
This is of course not an exhaustive list.  There are so very many things to love about Xavier also this list is in no particular order.
1) The freckles across the bridge of his nose and over his cheeks.  So adorable, they remind me that he is still just a little boy – even if he is almost as tall as me.

2) I love that he looks so much like Jason and is so proud of that.  I love that he wants to be like Jason when he grows up.  And he is just so handsome with the hazel eyes, brown hair and Mediterranean skin.  In a few years he is going to be a heartbreaker.
3) Xavier LOVES people. He has never met a stranger and he is kind to everyone around him.  He has loved people since he was a baby and he is the very definition of an extravert
4) Xavier is SO SMART.  I mean really intelligent.  He could be a doctor or a lawyer or an engineer.  He is just really bright.
5) He still loved to snuggle and still lets me hug and kiss him in front of his friends.
6) He likes to read comic books and draw comic books, he loves to read and be read to in general!
7) He's creative – give the child Lego's or Knex's and he can build anything.  He can create things I look at and go – "how the heck?" He is very creative with his ability to build, create and draw.
8)  He is very responsible and companionite especially with younger children.  He takes care of them and watches out for them and includes them in his games.
8.5) I love that he looks like Jason but loves lists, and schedules like me.  He might not look at all like me but he's still mine.

9) Xavier likes school, he likes his classes, loves his friends and just in general likes to be at school.  It is nice to have a child who genuinely enjoys going to school every day.
9.5) Curiosity – Xavier wants to know and understand everything around him.  He is full of questions – sometimes really hard ones like "Is magic real?"  Other times really easy ones like "What's in sushi?" or wait – is that one of the hard ones?

10) He is sweet, kind, caring, and intelligent.  Xavier has a heart of gold – he never wants to hurt anyone and will go out of his way to help others.  He has a beautiful personality.  He is always learning and growing and I cannot wait to see the man God grows him into.
Overall Xavier is just a wonderful person.
Xavier – Mommy and Daddy adore you – happy birthday.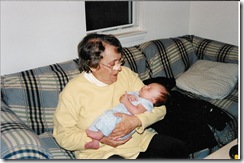 Xavier with Grandma Mac at one month old.

No Comments »
Leave a Reply