Aug 5th 2009PamGeneral & Quinn & Willoweve & Xavier
So the kids all agree that there favorite thing we did in MD was go crabbing.  We did this in Ocean Pines where we stayed while visiting Ocean City. We were catching Maryland Blue Crabs.
Yeah ok so we didn't REALLY crab.  We fished for crabs with string and ham.  Hanging ham tied to string in the water and waiting till we felt a tug then slowly pulling the string up. We were  just catching, looking, taking pictures and releasing.  But it was a ton of fun.
Mary caught the biggest.  This Crab has become bigger and bigger in the stories that are being told about it. Willoweve's hands spread a little wider every time she shows the size and it has become our families very own fish story.  But I have proof of actual size. Here we go… the "big" one.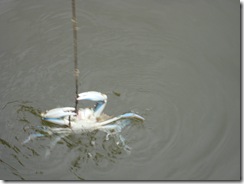 Coming out of the water – you can tell he's a boy by the shape of his apron – you can make it out in this picture.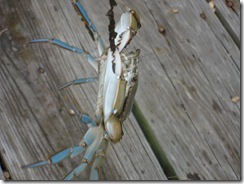 hanging on the string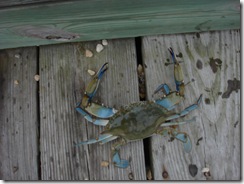 Running to hide – look at his color isn't he beautiful.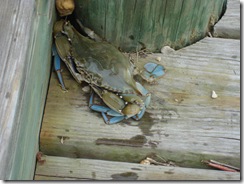 Trying to hide from us, the kids were all hovering around him yelling and jumping.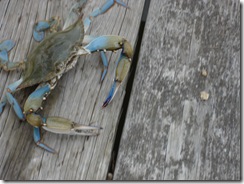 Running back towards the water Bye Bye big guy.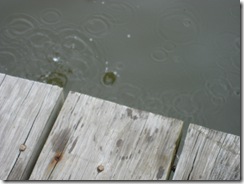 And the SPLASH as he returned to the water.
Tomorrow I will post some pictures of the KIDS from when we were crabbing.
No Comments »
Leave a Reply